---
Safety of Solar Panels in Different Weather Conditions | Visol India – Best Solar Panel Installation Company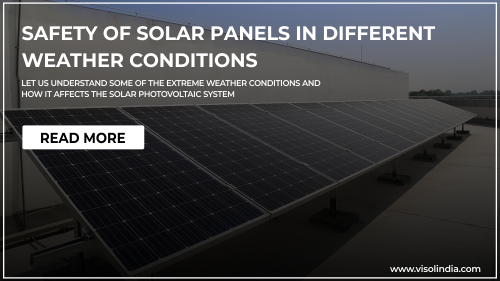 India recently experienced Cyclone Tautkae, one of the biggest for the Indian subcontinent in decades. The wind speeds were as high as 155-165 km per hour and gusting to 190km per hour damaging the western coast of the country. Buildings, trees and electric infrastructure got severely damaged. And in the midst of all this chaos, some Solar Power Plants as well! Both rooftop and Ground mounted Solar Power Plants.
That brings us to an important question about the durability of the Solar Power Plants during such severe weather conditions.
Experience has shown that solar power can survive most severe weather conditions and sometimes better than electricity sources. But solar systems can be damaged. Severe weather conditions can inflict damage, making the PV system to stop performing or not perform as designed.Components of the Solar Power Plants are tested for different weather conditions to make them durable to withstand severe weather conditions. From strong winds, rainfall, Cyclones,lightning, and various extreme weather events.
Today's solar panels are built to withstand severe climatic conditions and still are stand firm on your roof or ground area. If the Solar PV system has been-installed by an experienced Solar EPC company and has Solar Power Plant insurance, the chances of damage are minimal and Insurance Company covers the damage in case it happens.
Let us understand some of the extreme weather conditions and how it affects the Solar Photovoltaic system:
Cyclones
Solar power systems are installed at all places receiving sufficient sunlight including Cyclone prone area. For a cyclone prone area, the mounting structure should be well-designed and certified and installation should be done as per laid standards.Many premium panels are rated to withstand wind upload pressure up to a wind speed of 345km per hr.
Lightning
Lightning and thunderstorms can damage the solar panels if not protected for it. The damage can be so severe that the Solar panels can be permanently damaged leading to loss in energy generation. If the strike is direct, the consequences can be more dangerous and can melt most components of the system. A lightning protection is mandatory to be installed along with the solar system to protect the system as well as the building where it is installed. Good quality Inverters should be used to protect against any surge.
Hails
Hail storms can be one of the detriments for solar power plants. Hail can vary in size and diameter and damage structure including solar PV systems. Solar Panels is always designed to withstand the hits from the hail. The glass cover is durable enough to protect the solar cells of the solar panel.Manufactures put the solar panels under test to withstand hails of different sizes fallings at different speeds.
Strong winds
Wind can damage the solar panel system based on where the type of installation and the location. Typically they can be on the rooftop or on the ground. Wind can move between the roof or the ground and the solar panels depending upon the installation. This may lead to force the Solar panels to blow away if the module mounting structure is not well designed, installed or of poor quality. The panels itself cannot blow away if the supporting structure is strong enough to hold them. Most of the strong winds are vary from 65-180km per hour. Therefore, most panel manufacturers test and certify them up to wind speeds of 225km per hour. Local bylaws and local weather also define the norms to be followed for solar installations.
Rainfall and Snowfall
Solar panels are designed to withstand rainfall and snowfall even though they may be heavy. They are made of toughened glass and are completely waterproof. They are designed to handle all outside atmospheric conditions for more than 25 years including rain and snow. On the rear side, the back sheet encases the solar cells and other electrical circuit. The Solar Panels also come with a 25 years performance warranty and should they get damaged, they can always be replaced. Quality assurance is one of the important consideration for manufacturing solar panels which explains why they are priced higher instead of high than other electrical items.
Actions to be taken in case of damage of the Solar Photovoltaic System
Most of the Solar PV system comes with an insurance to cover all the above unforeseen weather conditions. It is important to speak to your vendor and ask for insurance coverage. Most of the Solar PV system insurance covers 100% cost of the system.
In case of OPEX model or PPA (Power Purchase Agreement), ensure that the investor has included the Solar system insurance clause in the agreement.
Unforeseen weather conditions like the cyclones, strong winds, and heavy rains can sometimes completely uproot the Solar system from the Module Mounting structure. Case studies have shown that the good quality solar panels have lasted such disturbances but this needs to be supported by a well-designed system and quality components for other components like inverter, module mounting system, cables, earthing, lightening arrestor, junction boxes etc. You must get the solar installation done from the best Solar EPC companies available in your city or area.
Visol India is the best Solar EPC Company in Mumbai and India with quality installations to last for its lifetime of 25 years withstanding all severe weather conditions. It has been one of the best Solar installation company in Mumbai and India providing value to its customers along with reliable customer service and a great experience.
Recommended Posts
15th April 2022