---
India's renewable power capacity is the fourth largest in the world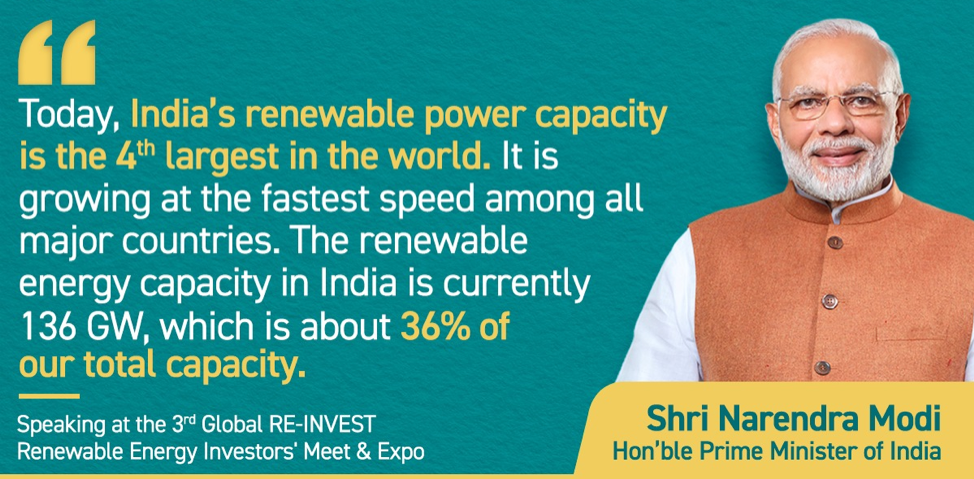 National Solar Mission
While India has set an ambitious target of 450GW of Renewable energy by 2030, the Government is taking initiatives to invite investments to reach this target. Prime Minister Shri Narendra Modi inaugurated the 3rd Global Renewable Energy Investment Meeting and Expo (RE-Invest 2020) on 26th Nov 2020.
The theme for RE-Invest 2020 was 'Innovations for Sustainable Energy Transition', and was organized by the Ministry of New and Renewable Energy, Government of India. The Prime Minister brought out that India's generation capacity and network is being expanded to ensure every citizen of India has access to electricity.
India is fastest growing renewable energy market.
Today India's renewable power capacity is the 4th largest in the world and is growing at the fastest speed among all major countries. The renewable energy capacity of India stands at 136 Giga Watts, which is 36% of total country capacity.
In the last 6 years, India has increased installed renewable energy capacity by two and half times, emphasizing that investing in RE when it wasn't cheap has made it possible to reduce the prices further.
Global Manufacturing Hub in Renewable Energy

PM Modi said that he wants to make India a global manufacturing hub in the renewable energy sector. Performance Linked Incentives (PLI) in electronics manufacturing will now be extended to high efficiency solar modules. He stressed that for "Ease of doing business," dedicated Project Development Cells have been established to facilitate investors.

With the huge renewable energy deployment plans for the next decade, India is likely to generate business prospects of the order of around $ 20 billion (Rs 1.5 Lakh Crore) per year. He invited investors, developers and businesses to join India's renewable energy journey.
World Leaders support International Solar Alliance
The inaugural session was coordinated by Mr R K Singh, Minister of Power and New & Renewable Energy and was attended by Prime Minister of Israel Mr H.E. Benjamin Netanyahu; Minister of Climate and Energy, Denmark Mr Dan Jorgensen; Secretary of State and Energy UK Mr Alok Sharma. A special video message from Mr H.E. Mark Rutte, PM of the Netherlands was also streamed. All the countries are members of the International Solar Alliance.
Paris Climate agreement
Mr Dan emphasized on moving towards Green transition for combating climate change issues, Renewable energy is also a key to reach the proposed ideas in Paris agreement. He also emphasized on Denmark-India partnership in green energy which can address climate change issues, generating jobs and economic activity.
By 2022, the share of renewable capacity in India will increase to over 220 GW. India is leading from the front in renewable capacity addition and is the future Global hub of sustainable energy innovation and development.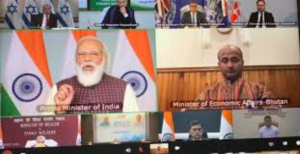 Recommended Posts
27th October 2021